Want to know what I've been up to cartoon-wise recently? No? But I bet you're curious just a little bit now huh? ...still no? Then go to hell >:C
But before you go to hell, I figured I'd show you what's been eating up most of my time, other than college of course!
This is a project for college where I am to create an A-Z of what ever I like; I chose animals and chose to make it into an animation. I call it, the
Animated Animal Alphabet
, pretty catchy huh? :D
Of course, my knowledge of animals is limited, but thanks to the kind (and weird) folks of Furaffinity, I quickly had a list of animals from A - Z and soon I was putting it together. Here are just a few that I've made so far!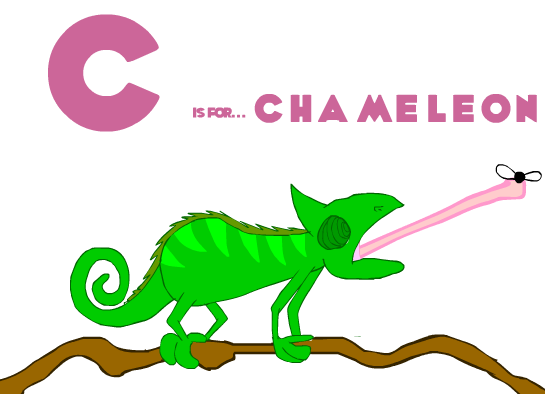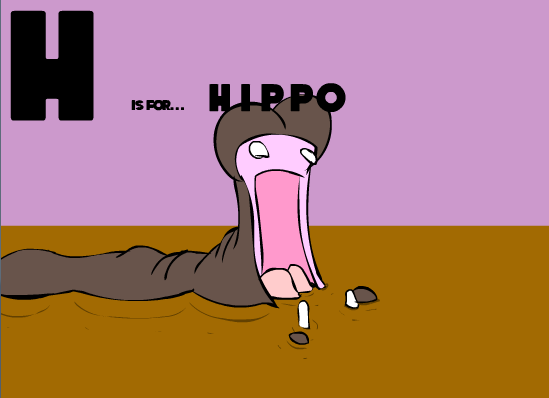 My time is limited, and so are my animation skills, so although I tried keeping the details true
to the animals, I had to make some minor changes so that they'd be easier to animate
(like I removed a lot of the tentacles because otherwise it'd just get too complicated!)
Wolfie and the Dragon

This is a commission for a friend of mine on FA, he's asked for his character to solve a dragon problem, in a short cartoon and said that's it...I can do it any way I like...YES XD
Of course It'll be mostly Frame by Frame, here is what I've done so far :)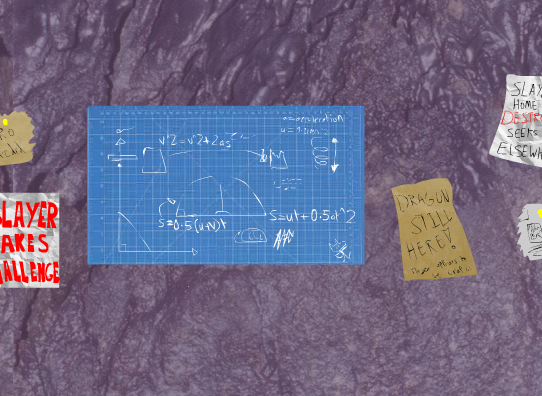 We start off with a panning shot across a series of posters and news paper cut-outs, that tell us the basis of the story. A dragon is terroising the city, a wolf steps in to help, he fails and he is forced to flee into a cave outside the city by the dragon. There he observes the arrogant beast and plans his last and final attack. The panning ends with us seeing a battered Wolfie drawing up his new plans.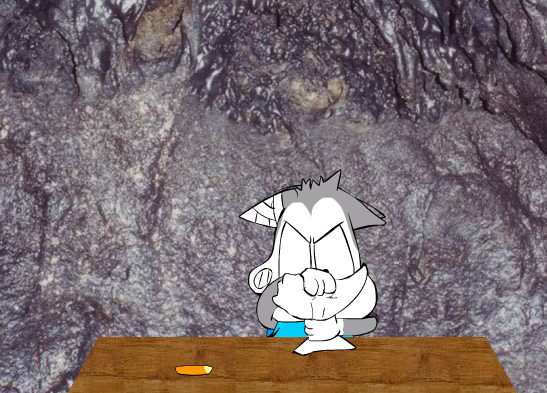 Things aren't going so well for him.
There were a lot of things that were new to me, like animating paper being screwed up, a lot of paper was screwed up by me to get the feeling just right.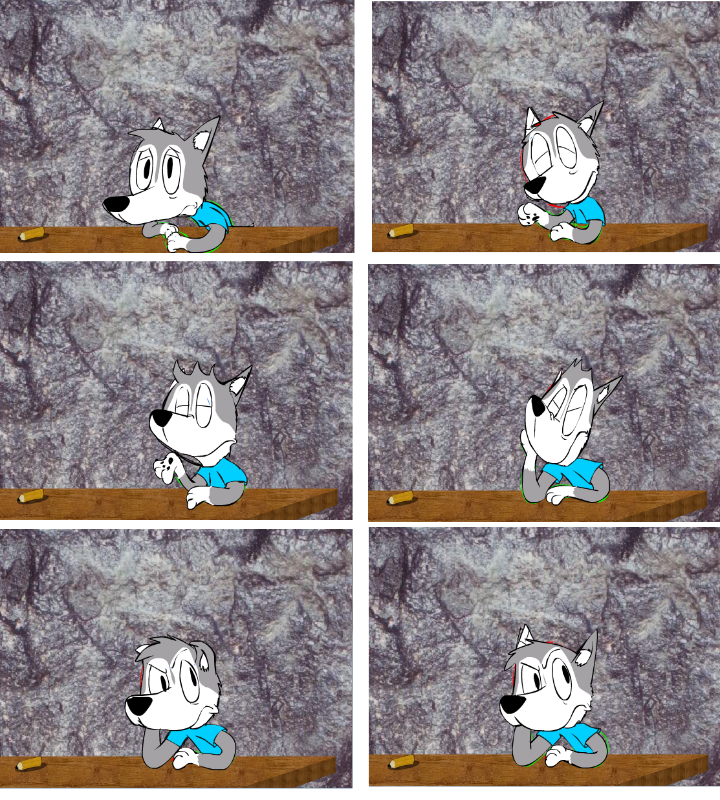 Frame by frame goodness!
This is Denver, the bastard...er...antagonist of the show. I really enjoy making expressions for this guy, mainly because he's my own design and creation, where as Woflie isn't. But I enjoyed animating them both!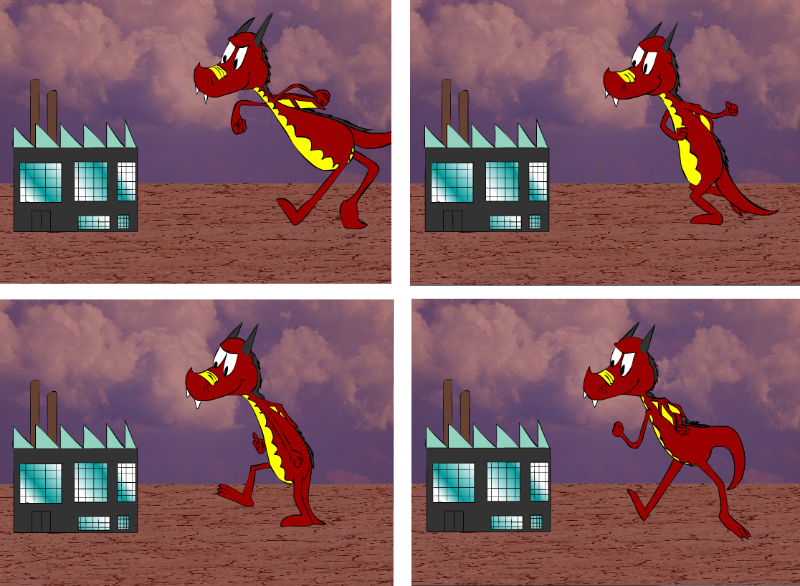 I figured a normal walk wouldn't do for this character, I wanted to show just how much of a basta...antagonist he was, just by how he approached his next target - a factory. Every movement Denver does is over the top, it means more animating, but I really don't mind.
Even just stopping himself in his walk was more than just stopping, I wanted it to be exaggerated!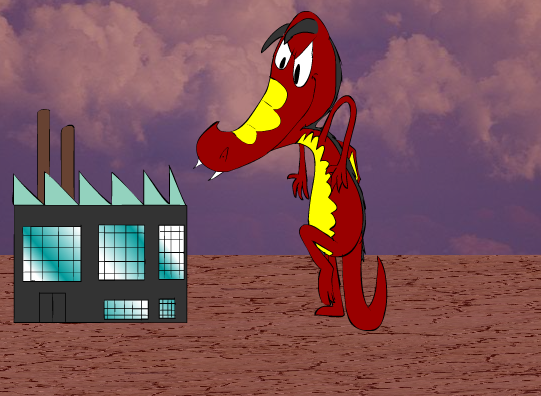 Lots of stretching was used to emphasise movement!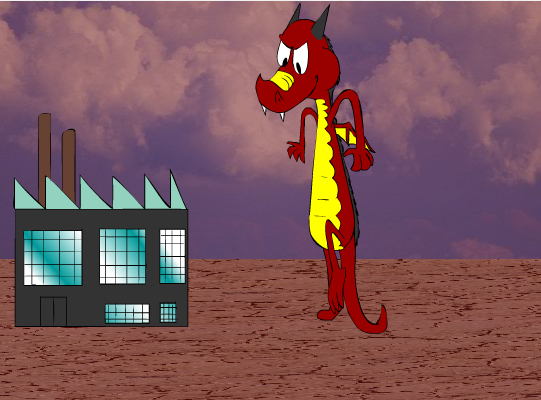 I wanted to portray this guy as an exaggerator, an arrogant bully that dramatises everything, like in this last shot
Well I hope you enjoyed this longer than usual post, I just thought it would be something nice to share with you :) You should expect both of these to be finished this year, More screen shots will be posted though, so keep your eyes peeled!